Dog Grooming Services in Weymouth, MA
If you are looking for a dog groomer in Weymouth, MA, then look no further than The Bark Club. Our pet groomers provide individualized service with a gentle touch to have your pet looking their absolute best. We groom all breeds of dogs. No matter if your dog requires a simple wash and brush session, or it's time for a dab of extra spoiling, our devoted team is here to help with it all. Book your appointment today!

Grooming Pricing
To help ensure accuracy please call us for a pricing quote. Pricing is based on the pet's size, temperament, and coat condition. Matted dogs will require more brushing/de-matting and will therefore be subject to de-matting fees.
If you are a new client, please email up-to-date proof of rabies to info@thebarkclubma.com. (We require proof of rabies to be sent at least 48 hours before your appointment and appointment may be subject to cancellation if we do not recieve it.)
Please note, we require a $25 deposit to be made when you book a groom. Deposit will be taken out a week prior to your appointment if booked online with a card. If you call to book, we will send you an invoice by text or email which must be paid a week in advance.
Missed appointments, no-shows, or appointments cancelled within 24 hours will result in a fee of 50% of the last completed groom plus 20% gratuity for the groomer. Appointments who arrive later than 15 minutes can also be subject to the no-show fee or a late fee in addition to their grooming price.
Due to the way we schedule appointments, we kindly ask that you arrive promptly for your appointment time. The groomer requires the full time slot to properly complete your pet's groom. We run by appointments so that the groomer is only working on one dog at a time.
We kindly ask that you pick up your pet no later than a half hour after their grooming has been completed. We will be notifying clients a half hour before their pet's groom is completed. We are limited to space in our grooming area where we can hold dogs and due to liability reasons, we cannot bring your dog outside to let them relieve themselves. Due to being a shared building, this will allow us to continue running a smooth, appointment based business while reducing excessive barking which generally occurs in the pens while pets are waiting to be picked up. Moving forward, if your pet is not picked up within a half hour, we will begin charging a $15 fee per half hour after the initial half hour. Thank you for understanding!
If you have a grooming appointment before we open (before 10 A.M.) or on Mondays (store is closed), please ring the bell and the groomer will come open the door for you.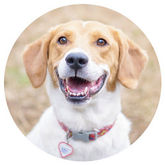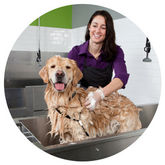 Full Groom (Trimming with clippers and scissors)
Includes: nail trim, ear cleaning, brush out, and hairstyling
Please call us to inquire about pricing and get a quote. (339) 201-4173 Pricing is based on pet's size, temperament, and coat condition. Matted dogs will require more brushing/de-matting and therefore will be subject to de-matting fees.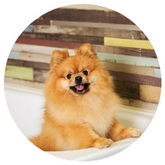 Add On's
Shampoo
Evergreen: $5 Made with probiotics from Skout's Honor. Smells like Winter Forest, Earthy Cedarwood & Sweet PineFrosted cranberry Scone Conditioning Shampoo: $5 Celebrate the season with our latest Limited-Edition Frosted Cranberry Scone Conditioning Shampoo. Formulated with added conditioners to build a shiny and silky coat, this aloe-infused formula will moisturize and revitalize dry skin while restoring natural moisture to the skin and coat. This shampoo is perfect for both long and short coats for cats and dogs of all breeds.
Barkling Cider: $5 A beneficial clarifying shampoo with added Apple Cider Vinegar to revitalize skin and coats. Cleansing properties of Apple Cider Vinegar help to restore coats to a clean slate by gently removing grease, grime, product buildup and excess oils that have accumulated over time. Regular use will nourish the coat, leaving it soft, smooth, and shiny while reducing dryness and frizz.
Pupkin' Spice Latte Conditioning Shampoo: $5 This limited-edition pumpkin-scented conditioning shampoo will revitalize your pet's coat and keep them looking healthy throughout the fall season! The vitamins and aloe vera work together to restore moisture and softness. This shampoo is perfect for both long and short coats for dogs and cats of all breeds.
De-shedding treatment: $20 This conditioning shampoo will help remove the bulk of unwanted undercoat, leaving no hairy mess behind.
Plum silky: $10 All purpose shampoo designed for professional use on an everyday basis. This shampoo contains non-oily conditoners and deodorizers to provide a fabulous texture and highlights. Aloe vera, vitamins, and silk protiens leave coats shiny, soft, and manageable with a wonderful, long lasting fragrance.
Dog Of The Woods: $5 Gently cleans and moisturizes the skin and coat and is great for healthy pets and pets who suffer from skin allergies. It contains avocado oil and topical probiotics that help support a healthy microbiome to defend against common skin problems such as itching, odor, dryness, dandruff, hot spots, yeast and excessive shedding.
Natural Flea and Tick Shampoo: $10 Kills fleas, ticks, and mosquitos by contact. Maximum strength formula repels fleas for up to 7 days. This natural essential blend contains some of nature's most powerful pest fighting ingredients, maximized with lemongrass and sesame oil. Powerful and effective, but safe enough for routine baths on dogs and puppies 12 weeks and older.
Aloe Bluing Shampoo With Optical Brighteners: $10 Enhance the color and make the pets coat radiate with brightness. The non-toxic solution not only amplifies the color of the coat but also adds moisture to the skin and coat. A great shampoo for all breeds and coat colors.
Smelly Pet: $10 Odor neutralizing shampoo, helps with undercoat removal, can be used to help with skunked pets.
Sudsease Senior: $10 Helps relieve sore muscles, improves hair health, contains eucalyptus essential oils, great for older pets with sore muscles and irritated skin.
Quick Relief: $10 A medicated, antimicrobial, antifungal, and antibacterial used for relief of Ringworm, Hot Spots, Eczema and Dermatitis.
Yard Dog: $10 Degreasing shampoo, gentle on skin, leaves soothing scent of lemongrass.
Trimming
Just Pad And Feet Trimming: Starting at $15 Don't need a full groom? Add this to a regular bath with no haircut.
Just Face Trimming: Starting at $15 Don't need a full groom? Add this to a regular bath with no haircut.
Sanitary Trim: Starting at $15 Don't need a full groom? Add this on to a regular bath with no haircut.
Other
Blueberry Facial: $5 A sulfate free, tearless face and body wash that cleans and brightens coats while leaving a lasting blueberry scent.
Skunk Treatment: $15
Nail Grinding: $12 Grinding gets the nails shorter, rounds the edges so the nails aren't sharp, and is safer for the pet because there's less of a chance to cut the quick.
Teeth Brushing and Oral Rinse: $8
Paw Balm: $5 Add this balm on to any groom to help heal cracked paws and protect sensitive skin. Made with Beeswax, Coconut Oil, Olive Oil, Calandula Oil and Calandula Flowers.
Come visit our self-serve dog wash & boutique in Weymouth, MA specializing in quality treats, toys, and supplies for dogs & cats.